Help journalism students attend the APTRA Academy!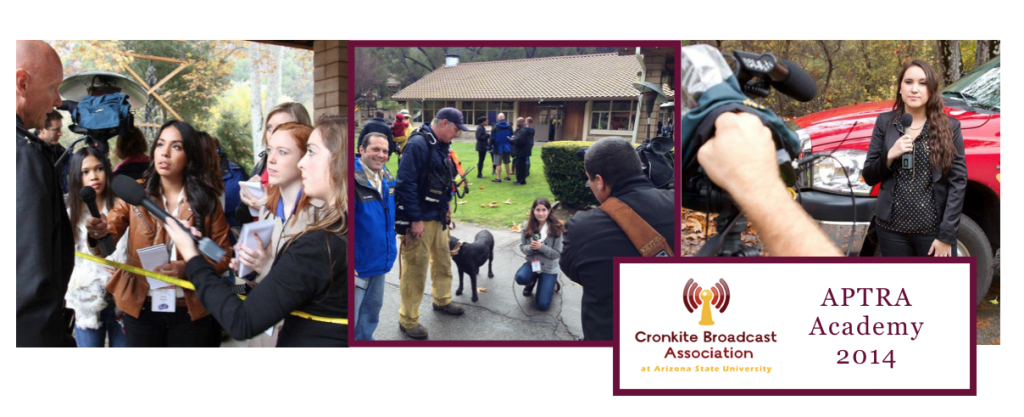 About the Academy:

Tight deadlines, fast-paced action and unanticipated delays: These are some of the realities of covering breaking news, particularly in today's digital world. The annual APTRA (Associated Press Television Radio Association) Academy gives students a small taste of what it's like to cover a breaking news scenario, guided by several experienced TV mentors from around the Southwest. The opportunity allows Cronkite students to get their feet wet working on the fly, in addition to taking away meaningful guidance for their major and future careers.

Who are we?

Cronkite Broadcast Association is an organization aimed at getting inspired journalism students involved in the field the moment they step into the Walter Cronkite School of Journalism at Arizona State University. We provide the opportunity for members to tour local television stations, hand out awards for NATAS (the National Academy of Television Arts and Sciences) at the Rocky Mountain Emmys and most importantly, allow students to gain real-life breaking news experience at the December APTRA conference.
To find out more about us, check out our Facebook page at
https://www.facebook.com/CronkiteBroadcastAssociation
.
Why the conference matters:


Better-trained journalists have never been more important than today. With the rising popularity of the internet, the increased amount of digital tools and growing uncertainty about where the field is heading, it's absolutely necessary to get young journalists involved as quickly as possible, encouraging them to further explore their craft and communicate as efficiently as they can.
This conference will invite a young freshman journalism student to question where she's heading, what she needs to do to get there and how she can continue to do her job better once she's hired. The earlier she starts, the more quickly she gets involved and takes an interest in her field.
This project currently has no updates.
Stacy Holmstedt
Gave $10.00
Shad Hanselman
Gave $10.00
Kristin Gilger
Gave $25.00
Tiffany Antor
Gave $10.00
3 supporters have chosen not to be listed for "Help journalism students attend the APTRA Academy!".
Make an Impact
A gift of $10 could help provide money for gas and tolls when driving to the conference in Malibu.
A gift of $25 could provide a student with Friday night's hotel stay before we start the Academy Saturday morning.
A gift of $50 could pay for the coverage of the first incident and exercise at the conference.
A gift of this amount could provide a student with the opportunity to develop as a reporter. In addition, we will give you a shout-out on our Facebook page!